(A version of this blog appeared in NPCA's WorldView Fall 2017 issue.)
Georgia is a country the size of South Carolina with 26,000 rivers through it, bordered on the north and south by the Caucasus Mountain ranges. Glaciers in the Greater Caucasus are rapidly disappearing.
Eventually, the melting glaciers will mean less groundwater renewal from winter snows and ice melts, causing droughts and adding to problems of serious water quality problems already made worse by poor enforcement of mining laws in a country rich in mineral resources.
Floods wash away soil from the deforested mountainsides and tons of trash from farms and towns. River banks are lined with trees whose branches collect plastic bags as "flags" that show how high the rivers rise at flood stage. It all flows down the ravines to those 26,000 rivers to feed the Black or Caspian seas.
The nation's villages and cities hire crews that do a great job of sweeping the sidewalks and streets, but most Georgians assume that someone else will pick up after them. Along the nation's river banks, illegal dumping from homes and construction sites is rampant – out of sight, out of mind. There are more than 60 official landfills in Georgia, but only four of them meet international standards.
As a Peace Corps Volunteer, I worked for the Imereti Scientists' Union - Spectri, an environmental organization that performs development work throughout Georgia. Because I was deep into working on environmental issues throughout Georgia, I also provided information to support the work of other volunteers in my region who worked in waste management, energy efficiency, water quality, flooding, deforestation, or agricultural sustainability. A decade earlier, I had served for three years in Ghana. The waste management problems I saw in Georgia equaled those from West Africa, and they're not being properly addressed in either country.
Inspired by Georgia's youth
I was encouraged by the active Georgian youth that I met at trainings, G.R.E.E.N. Camps and Let's Play Together events. They demonstrated sincere commitment and indignation over the deteriorated environmental state of their country. Their enthusiasm gave me hope.
After classroom trainings and hands-on activities, we began waste cleanup events where overwhelming rains had deposited large amounts of trash. This is a random group of 12- to 17-year-olds who started meeting regularly every two to three weeks to target large accumulations of trash. They were publicly engaged.
Spectri has for 20 years been focusing its resources on youth awareness, alternative energy, flood control, waste management, climate change, and industrial pollution, all issues that Georgian public policy has been slow to identify and implement. Spectri's office is in Kutaisi, Georgia's second-largest city and the first city to carry out municipal-level collection of separated plastics. The city started collection with a grant from the European Union Black Sea. Spectri supports the city's grant request and enjoys strong administrative ties with City Hall, a connection that is vital to success on this scale. Spectri has also expanded its influence in neighboring countries through Students for Energy Efficiency, a university student-led group with similar youth-led groups in Ukraine, Moldova and Armenia.
I found in my work here that good graphic resources made my job much easier. We used "Solid Waste Management: A key to delivering the global goals" from WasteAid International to demonstrate how improved waste management can improve life on all of the UN Sustainable Development Goals, especially jobs, quality of life and climate change.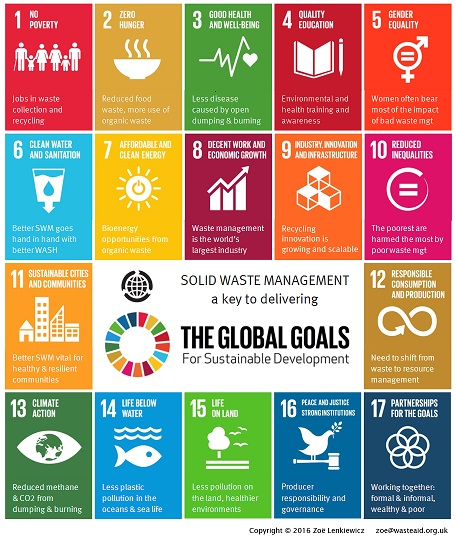 Another graphic resource showing waste management's links to development is "Actionable Impact Themes" graphic is another way to look at waste management in the framework of development.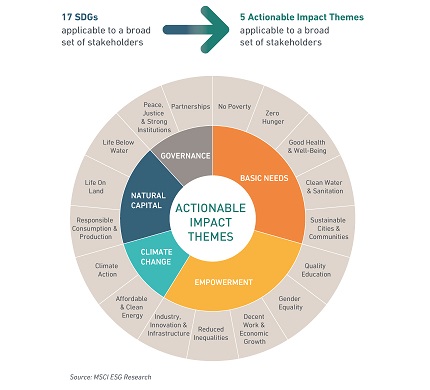 These graphics demonstrate #TheWayISeePC – as an opportunity to translate good community waste and energy management into employment opportunities and improved health.
As citizens take charge of their natural capital in their own communities, they are empowered and, in the UN Sustainability model, can meet their basic needs. Am I dreamer? Let us all be dreamers.
Kate Schachter is a co-founder of RPCVs for Environmental Action and served as a member of the NPCA Board of Directors and as Coordinator for the Group Leaders Forum. She served in Georgia from 2016 to 2017 and in Ghana from 2004 to 2007. She is also active on the leadership team of the RPCVs of Wisconsin-Madison.